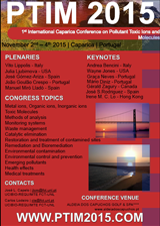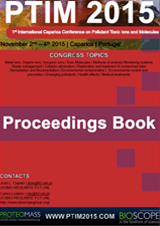 IMPORTANT: ALL ORAL AND SHOT GUNS PRESENTATIONS HAVE BEEN FILLED
Warning for participants
Please note that Exhibition Housing Services, Exhibition Housing Management and Trade Show Housing do not represent the PROTEOMASS Scientific Society nor BIOSCOPE group, nor have PROTEOMASS Scientific Society or BIOSCOPE Group authorized them to use their names or trademarks on information they send out to participants.
Hotel booking must be done exclusively through this email: reservas@aldeiadoscapuchos.pt
No booking agencies are allowed to participate in this event.
For more information about Venue Registration please refers to the conference web site or contact:
Pollutants, inorganic or organic, ionic or neutral, have the unmistakeable sign of men kind. They are the slow dead, which kills the life in our planet, kills our kids too, and kills us as well. Does life in Earth have a chance? This is a difficult question to answer. The pollution is so intense in some places of our planet that life has become compromise in them.
A recent study involving more than 30 000 women in the USA suggests that endocrine-disrupting pollutants, EDPs, are linked to earlier menopause. Just as another study done over 2 732 women suggesting that polyfluoroalkyl Chemicals has the same effects as EDPs. And what to say about the recent report alerting the raising mercury content in tuna at a level of 3.8% per year since 1998? Countless examples can be given.
The question still remains: are humans driving the planet till dead?
This question will be answered, or better to say, try to be answered during the 1st International Conference on Pollutant Toxic Ions and Molecules, PTIM2015 that will be held in November 2015 in Caparica, Portugal.
We will have some of the best names in the arena:
| | |
| --- | --- |
| | Dr. João Goulão CrespoUniversidade Nova de Lisboa, Department of Chemistry, Lisbon (Portugal) |
| | Dr. Vito LippolisUniversita degli Studi di Cagliari, Department of Chemical and Geological Sciences, Cagliari (Italy) |
| | Prof. José Gómez-ArizaDepartamento de Química y Ciencia de los Materiales, Facultad de Ciencias Experimentales, Universidad de Huelva (Spain) |
| | Prof. Manuel Miró LladóFI-TRACE group, Department of Chemistry, University of the Balearic Islands (Spain) |
| | Dr. Julia Ljubimova Samuel Oschin Comprehensive Cancer Center, Los Angeles, CA (United States) |
Conference Subjects:
Metal ions, Organic ions, Inorganic ions, Toxic Molecules
Methods of analysis
Monitoring systems
Remediation and Bioremediation
Waste management
Catalytic elimination
Restoration and treatment of contamined sites
Environmental contamination, control, prevention
Emerging pollutants
Health effects
Medical treatments
For further information please contact us at jlcm@fct.unl.pt or cle@fct.unl.pt.
Yours truly,
J. L. Capelo
C. Lodeiro
References:
Persistent Organic Pollutants and Early Menopause in U.S. Women, N. M. Grindler et al., January 28, 2015 DOI: 10.1371/journal.pone.0116057
Polyfluoroalkyl Chemicals and Menopause among Women 20–65 Years of Age (NHANES). K. W. Taylor, Environ Health Perspect; DOI:10.1289/ehp.1306707
http://guardianlv.com/2015/02/yellowfin-tuna-show-rising-mercury-levels/